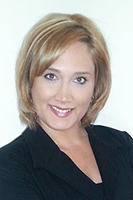 Amy Paris
Sales Associate, Realtor
Cell Phone: 757-409-9539
Contact This Sales Associate, Realtor

View Reviews
---

Licensed in VA
VA only agent (sales person)
Looking for a positive and helpful Real Estate Agent to buy or sell a Home??
Amy Paris specializes in serving clients who are looking to buy, sell or lease property in the Hampton Roads area of Virginia. She believes her first priority is meeting all your real estate needs with a level of service that is second to none. Amy will provide you with a no fluff, straight forward, and honest service.
She has a Marketing Management degree and uses the newest internet marketing tools to advertise your property to the broadest possible range of qualified buyers.
As a Military wife of 15 years and a mother of two, she understands your time is very important and will do everything in her power to maximize it's use in every transaction. She also understands the emotions that come with selling a home or purchasing a new one, and the challenges of re-locating, having personally experienced it several times.
She will be there for YOU through the entire process and beyond. Her passion is to help others make their Dreams into Reality.

---

Amy is a Member of
Real Estate Information Network (REIN)
Hampton Roads Realtor Association (HRRA)